Hugh published his fifteenth historical manuscript about Pliny Moore's Oswego expedition. By February of 1783, Pliny was an Adjutant and was in Colonel Marinus Willett's Regiment where he was in a forced march to Oswego. In the summer of 1783, Pliny was stationed at Fort Rensselar where he met George Washington on July 4.
In March of 1783, Pliny wrote about business men from Albany buying solders wages for hard cash. These solders had not been paid by New York State but were promised a wage. The businessmen probably paid them only a percentage of their complete wages. Pliny even suggested to his father Noadiah that he purchase some of the wages for the last nine months. To prevent solders from selling their wages for less than their true value, a law was passed by the legislature.
Pliny also described how ashamed he was at his military dress. His clothes were in poor condition and many in his regiment noticed that. People could tell that it was Pliny whether he was three feet or 300 yards away. He was also worried that the other solders would not respect his orders.
Hugh published these letters in 1929 using his Moorsfield Press. The original style of his manuscript is preserved here, as much as is possible. The letter "s" (written as "f") was changed back to "s" to make the paper more readable. Also interesting is that Hugh mentioned where the original papers were found. Hugh's father received the papers as part of a larger Lincoln collection that was sent to him. This was probably before 1915 since Hugh "discovered" the bundled Pliny Moore papers, found in a chest in Frank or Mary Whiteside's house, at that time. He later obtained ownership of these papers which became the basis of the "McLellan Collection."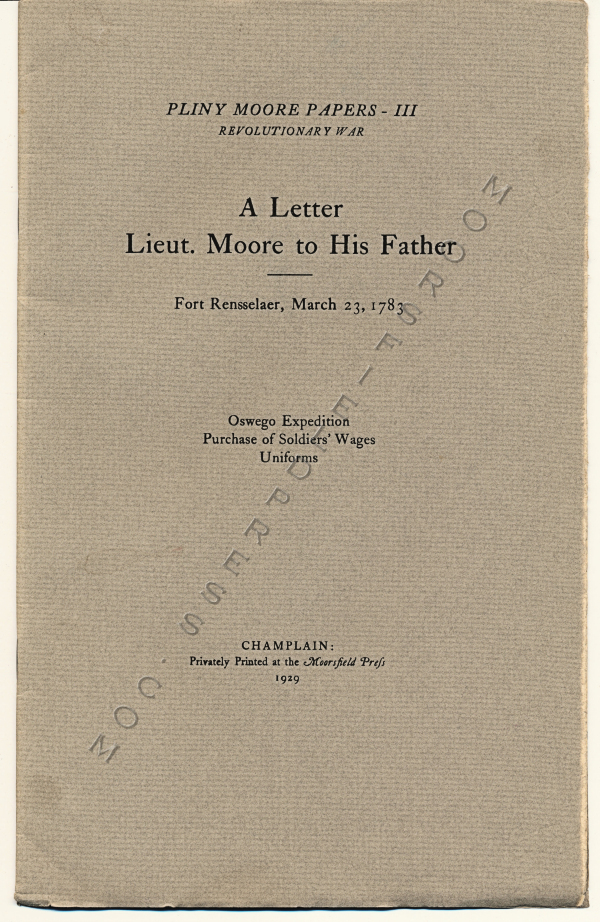 PLINY MOORE PAPERS ‑ III
REVOLUTIONARY WAR
A Letter:
Lieut. Moore to His Father
_______
Fort Rensselaer, March 23, 1783
Oswego Expedition
Purchase of Soldiers' Wages
Uniforms
CHAMPLAIN:
Privately Printed at the Moorsfield Press
1929
Ninety-two copies of this Letter were printed by Hugh McLellan, April
1929, at the Moorsfield Press, Champlain, N. Y., being the
fifteenth production of the Press. No. ___
Forword[sic]

THE LATE Mr. John Pierce, of Albany, sent to my father with a consignment of Lincolniana, several old letters simply because they had been dated from Champlain. They proved to be from my great-great-grandmother to her sister-in-law, Eunice Moore, who had married Caleb Hill, of Chatham. Delighted at this coincidence, Mr. Pierce searched further and found the letter here printed, and also the map of the Pliny Moore Patent at Crown Point. These were the first Moore papers obtained — later to be greatly added to through the exceeding kindness of our cousins, the Whitesides, of Champlain. Among the papers relating to the Revolutionary War was found the original draft of the letter secured years before.

I wish also to express my gratitude to Mr. Peter Nelson for locating the Orderly Book of Pliny Moore, adjutant of Willett's Levies while stationed at Fort Rensselaer; and to Mr. Nelson Greene, of Fort Plain, for his assistance, rendered personally and through his historical works on the Mohawk Valley.

It is hoped to print, from time to time, other letters and documents from these Papers, in this slight form.

HUGH McLELLAN

Champlain, N. Y., April 2, 1929.

Lieutenant Pliny Moore to His Father

March 23, 1783

Mr Noadiah Moor /Kings District.[1]

Fort Rensselaer[2] March 23[3] 1783.

Dear Father

I have not heard a word from home since your Letter dated the 13th Ult only that you were well by way of Mr Scott from Albany. I am very uneasy to know where I am to find you the last of April if I should not have permission to go home before, though I am not without hopes of leave by the Tenth, till which I have no expectations as the business of our Oswago expedition[4] is scarcely got into a regular channel. I am told that the clamours in the Country respecting our Jaunt run high & that some have the Audacity to censure Colonel Willett —[5] perhaps those who censure may not be so well acquainted with the real circumstances as his Excellency the Commander in Chief whose Sentiments upon the Subject I here enclose.[6]

Some Gentlemen from Albany (who came upon purpose) have within these Two or Three days part Purchased from the Soldiers of this Garrison some Hundreds of Pounds of their Wages for Hard Cash & have taken orders on the Paymaster for them — in Consequence of which the Enclosed Regimental Order[7] was Issued.

The Report by Cap't Tearce[8] of our Regim't (who is also purchasing) who came immediately from the Legislature is that they have pass'd a Law to pay the Troops & Levies of this State in Notes which shall be Rec'd in payment for Confiscated Lands &c if so they have made their Jacks. You will be able by Some of the Members to learn the certainty of this & as we have met with great losses by the War, if you could purchase some of the Nine Months Mens wages cheap in your way it might not be amiss to venture a few Dollars More on the Public Security & take Orders For Value Received on the Pay Master of Col'o Willetts Reg't (who for the Year 1782 is Lieu't Ab'm Ten Eyck) Expressing the Commencement Time of Service &c it will be necessary to be perticular not to purchase any deserters pay & to know if they have not Sold it before — If the Notes are upon the same principal as the Depreciation Notes were they will purchase more Confiscate Land than the Nominal Sum in Cash as the lands must be appraised as it went in 1774 & it is now dearer — Some of these Gentlemen have given at the Rate of One for Twenty I believe none more; or 3 Dol's for 9 Months Wages.

I am Surprised that I hear nothing from Mr Dean[9] concerning Location, hope you have given him the Discription of my Farm at the Falls.

I hope you will not think me Fantastical or indecently Proud when I tell you that I wish to have my Coat & Vest[10] fixed & sent up, and that my present dress was a little more Millitary, I am found fault with & told that a person in my Station who is every day on Duty with the Regim't ought always to wear his Regimentals, which is in fact agreeable to the Military Guide. We oblige our Soldiers (& there is a Regimental Order for it) to appear at all times when on the Parade in their Uniforms, their Linnen Clean, their Facings Vests & Overhalls neatly whited & their Hair powdered &c. With what face can I demand those niceties of the Men (& which are no more than Reasonable) or how can I turn a man of[f] the Parade as unfit for duty & Reprimand the Officer for giving me such a Man for duty, in my Old white Coat Blue Vest & Breeches, or how should I look in these with my Hair Powdered. Yet all this frequently happens for want of an every day uniform & in fact I have no proper Uniform I am loth to Spoil my good clothes & Shirts by wearing on all occasions & I have worn my Brown Hatt, plain coars Shirts &c. till I am perfectly Ashamed of them — I am as well known at Three Hundred Yards distance by my dress as I am at Three Feet by Fiz'y or Voice & I change so Seldom that they are as Sure not to mistake me

I have by my Industry & Frugality[11] purchased me a Genteel Hanger, Spurs & Read Broad Cloth to face my Coat in Uniform, paid for my Hatt & this Months Board so that at the Months end I Shall have Eight Dollars Subsistence coming to me & none in debt[12] I hope in another Months time to have enough to buy me Cloth for a proper Uniform Vest & Breeches [which[13]] I am necessitated to have of White or Buff Broa[d Cloth or] Casemy

I this day Ventured, to ask the C[ol'o Liberty for[14]] Shadrack[15] to go home who made not a word objection — I suppose had I the Assurance to have Ask'd he would have gone long ago — but I am not fond of asking favours too frequently lest they Should become a burthen. I have fill'd his furlough & shall send it him to Fort Herkimer[16] tomorrow morning I have never mentioned it to him perhaps he will not be willing to go.

A Small Scout of the Enemy have been down as low as Fort Dayton[17] & carried of[f] an Inhabitant prisoner

The Dawning Peace by the Paper Accounts seems to be at a greater distance than was expected. My Horse, Saddle & Bridle I wish might be sent by David Colver.[18] I wish you would by no means keep Shadrack a day longer than his furlough as I am Accountable for him.[19]

Dutifully Yours

Mr Moor Pliny Moor




Pliny Moore at Fort Plain, July 4, 1783

The following newspaper clipping was sent to Hugh McLellan on June 28, 1926, by Mr. Nelson Greens and was published in the Fort Plain Standard on July 1, 1926. This was a "galley proof" that Hugh wrote and proofread before it was published.

JULY 4, 1783, AT FORT PLAIN.

Remarkable Letter of Independence Day Celebration at Local Post.

The story of old Fort Plain has been greatly enriched by the editing of the letters of Pliny Moore, who was an officer stationed at the local fortification in Revolutionary days.

Lieut. Moore was on duty in 1783, at the time of General Washington's visit here in 1783, at which period the local post was called Fort Rensselaer. The letters of Lieut. Moore form the most important collection of documents relative to the history of Fort Plain in existence.

On July 4th, 1783, the officers of the local garrison held a big Independence day celebration which is most graphically described in the letter from Lieut. Pliny Moore to Ballatine & Webster, printers, of Albany who published a newspaper at that time. The celebration of 1783 evidently was put over with a good old American spirit which might well be emulated by the people of Fort Plain of today, with regard to the local sesquicentennial celebration of the Declaration of Independence planned for Monday evening, July 5, 1926.

If we are to be worthy of the brave and jolly soldieries who then drank the thirteen toasts for the thirteen original states and who fired salvos of artillery from the top of our most historic village hill, then we should certainly be able to finance and put over a worthy celebration in their honor for this, the 150th year of American Independence.

As noted in the letter, the fireworks of 1783 were shells thrown from Revolutionary war cannon.

The following account of the local celebration of July 4, 1783, was given the Standard June 23 by Hugh McLellan of "Champlain, a great-great-grandson of Lieut. Pliny Moore. Mr. McLellan has given much time to the preparation of the Revolutionary officer's papers, which have great historical value.

The papers, dealing with the Fort Plain Fourth of July celebration of 1783, follow, printed verbatim as to spelling, etc.:

(Draft of a letter to Messrs. BALINTINE & WEBSTER (Publishers of "The New York Gazetteer or Northern Intelligencer") in hand of Pliny Moore, for Esq'r Herkimer).

German Flatts District July 10th 1783,

Sir

Friday last being the Anniversary of American Independence, The Officers of the Gerrison at Fort Rensselaer Gave a Splendid Entertainment to the Principal Characters of Tryon County, Consisting of the Members of Legislatures Magistrates Field Officers &c. The day was usher'd in by the Discharge of Thirteen Twelve pounders from the Block Hous at 12 oClock, which was repeated at One Oclock while they with their Guests preceded by The band of musick of the 1st New York Regim't walked in procession from the Long Room past the Block House to a Beautiful Bower from whence after Regaling themselves with a Drink of excellent Punch they Returned in the Same order. At Half past Two Oclock the Company were reconducted to the bowe, where was a most elegant Diner prepared & Served up in a good order -- The Table being removed of & wine brought The Following Toasts were Drank too the Circulation of each which were announced with the discharge of a Field pice placed a few yards from the Bower for the purpose -- Here come in the Toasts The discharge of Thirteen 12 pounders from the block House & Thirteen Field pices Closed the day, after which the Company Returned to the Long room, where Wine, Mirth Friendship & Good humor predominated over every other Idea.

In the evening were through Thirteen Shells by Order of Cap't Wright who commanded the Garrison.

It is some what Notorious that through the Course of the day not one Disagreeable circumstance Intervened to allay the Inate Joy which was Visible in every countenance --

Motives of Justice to the Gentlemen district from any Idea of Compensating the many Civilities which I received Induces me to Request you will make this Public through the Channel of your Paper.

Mess'r Balintine & Webster Printers Albany

----------------------

(Endorsed by Pliny Moore):—

10th July 1783

Draught for Esq'r Herkimer —

(Later draft of a list of Toasts in hand of Pliny Moore, for an Entertainment held by the Officers of the Garrison at Fort Rensalear, in celebration of Independence Day).

(Endorsed by Pliny Moore): —

4th July 1783 —

Toasts Drank to at an Entertainment —

--------------

Toasts Drank too the 4th July 1783 –

1st The United States of America –

2d May we Support the Soverengty of our Country & may virtue and Unanimity ever be our National Charasteristick.

3d His Excellency Gen's Washington may that Illustrious Chief So distinguished for his Virtues and the many achieves that so signally rendered most important Services to his Country Long enjoy in the Soft embraces of Retirement all that felicity which is felt by Virtuous Minds.

4th The Retiring army, may they Receive the Just Rewars of merit.

5th The King of France and all Illustrious Allies.

6th Our Plinepotintiaries whose Characters reflect the Highest Honor on American Politicks.

7th May we never cease to Resist the power under whatever name that would oppress us.

8th His Excellency Governor Clinton may he long live to participate the Blessings of that Peace which his many Services have so much contributed to Facilitate.

9th The State of New York, long may the People of the State remain Happy under a Chief So deserving the Reward of his Country.

10th The Auspicious period to the distresses of our Felow Citizens of Tryon County.

11th The Fair Sex of our Country.

12th The Memory of the Brave who have fallen contesting for Freedom.

13th Let us commemorate the Glorious Asknowledgment of our Soverngty & Independence.

-------------

(Addressed): —

Lieut: Pliny Moor

Commanding Artillery

Fort Rensselear

Thompson

--------------

Dear Sir —

I think it unnecessary to offer an introduction to the toasts that where [sic] given a few days since – the one you have must answer every wish, — in the number of toasts I conceive there needs no alterations, (except in the fourth which if you please may be express'd the retireing American Army &c —) —– we expect the arrival of his Excellency our general — in about three hours — shall pay the compliment of a discharge of cannon; — by what I can collect. — the General intends taking a tour to saratoga – and very probaly to Johnston, and Fort Rensselear, Should it take place, I would recomment some of the Artillery men lately from the Army and now in the neighbourhood of the Garrison, to your assistance, — . My reinforcement from West Point is hourly expected —

Please to present my regards to each Gentleman of the Garrison — believe me Dear Sir with much esteem

Your most obedient

And very humble servant

Thompson

Albany —

July 19th 83 —

M. Moor

-----------------

(Endorsed by Pliny Moore): —

19th July 1783 —

Lieu't Alexand'r Thompson

Letter

Public —

The Alexander Thompson, referred to in the foregoing Revolutionary documents, was artillery commandant of the Mohawk valley posts in April, 1783, when he was located at Fort Plain.

Lieut. Thompson is generally called Captain Thompson in histories of this section. On April 17, a messenger from General Washington reached Fort Plain bearing the peace message, announcing a cessation of hostilities between Great Britain and the United States. On April 18 Lieut. Thompson left Fort Plain to carry the message to the British post of Oswego, whence it was taken into Canada. Thompson kept a remarkable diary of his journey, which is published in the History of the Mohawk Valley.

The "Esqr Herkimer," for whom Lieut. Pliny Moore made the copy of the first letter, was probably Captain George Herkimer, brother of Gen. Herkimer, who was living in the General Herkimer house, near Little Falls, in 1783.

In 1783 General Washington made a tour of the battlefields and chief military posts of the Burgoyne campaign of 1777. This is the journey referred to in Lieut. Thompson's letter. On his return from his trip up the valley to the site of Fort Stanwix, at present Rome, Oneida lake, Fort Herkimer and Fort Dayton, at present Herkimer, General Washington stopped for the night at the home of Peter Wormuth, on the east side of the Mohawk river, about one-half mile from Fort Plain, on July 30. On July 31, he was received at Fort Plain (Fort Rensselaer) with full military honors, the garrison being drawn up for review and a salvo of artillery being fired. He was then given a dinner by the officers of the garrison when, it is probable that, the toasts given above were drunk. In the afternoon the General and his staff rode, over the Otsquago Trail, to Cherry Valley, where they spent the night of July 31. On August 1, they rode to Otsego lake and returned to Canajoharie over Clinton's portage route. Washington dined and slept at the Van Alstyne house and the next day, August 2, left with his staff, for Schenectady.

Regarding the names of Fort Plain and Fort Renseelaer for the local Revolutionary fort, the following will be found of informed interest:

At the time of General Washington's visit in 1783, the local fort was known as Fort Rensselaer. It bore the official name of Fort Plain during the years 1776, 1777, 1778, 1779, and the greater part of 1780. In August or September of that year, its name was changed to Fort Rensselaer by General Robert Van Rensselaer, who then commanded the American forts in the Mohawk valley. Although the local fort continued to be called Fort Plain by the people of the valley throughout the Revolutionary war, its official army designation was Fort Rensselaer during the years 1780 (latter part), 1781, 1782, 1783 and for several years thereafter. It was still an army storehouse in 1786, when Capt. B. Hudson was in command. It was dismantled shortly thereafter.

In the fall of 1780, after Brant's great south shore raid, Fort Rensselaer was enlarged and a blockhouse was built to command the ravine of Thakoikeeron, or Lipe's creek. It stood about 100 yards northwest of the stockaded defense of Fort Plain. It was often referred to as Fort McKean, so named in honor of Captain McKean, a brave American Revolutionary officer, who died from wounds received at the battle of Sharon in 1781. The blockhouse was not a separate defense but was a part of the fortification system of Fort Plain, which also comprised a breastwork along the whole east side of Fort Hill, the sightly plateau pennisula on which these works stood. Mahlon Lipe of Fort Plain has the key to the blockhouse.

From 1780, to and including 1783, Fort Rensselaer was the military American army headquarters for the Mohawk valley. During the last three years of the Revolutionary war, Col. Marinus Willett was the commandant of the Mohawk valley American army posts, making his headquarters at Fort Rensselaer, or Fort Plain, as we call it today.

The name Fort Rensselaer only appears on the army orders and army correspondence of Revolutionary days. Local people continued to call the post Fort Plain, because they hated Gen. Van Rensselaer, who showed such timidity and inefficiency at the battle of Klock's Field in 1780. The two names for the same fort have caused much confusion. Even General Washington wrote of "Fort Plain" and "Fort Rensselaer," in different letters, with reference to our local Revolutionary post. A similar confusion in historical nomenclature has arisen over the two names of Fort Stanwix and Fort Schuyler as applied to the famous Revolutionary fortification, on the site of present Rome, which bore such a great part in the Oriskany campaign and eventual American success on the field of Bemis Heights in 1777. Similarly, the Revolutionary soldieries and people called the post Fort Stanwix while it was Fort Schuyler in Revolutionary army orders, paper and correspondence.

Historians now generally adopt the name Fort Stanwix and no one ever speaks of our local fort except as Fort Plain. And yet for four years all official correspondence cited it was [as] Fort Rensselaer. The fort had frequent changes of commanders but Col. Willett had high command over this as well as all other valley forts and their commandants.

Historians generally now use the name Fort Stanwix in preference to Fort Schuyler. This is largely done to avoid confusion with the British post of Fort Schuyler, located on the site of present Utica from 1758 to 1760, during the French and Indian war. This post was not used during the Revolutionary war when the site was called Old Fort Schuyler. Today historians, press and public speak only of Fort Plain, and yet, for over four years, all official army correspondence referred to it as Fort Rensselaer. The fort frequently had changes of commanders but Col. Willett always had high command over this as well as all the other revolutionary American army posts of the Mohawk valley from 1781 to and including 1783.

Hugh McLellan visited Fort Plain last week Wednesday to observe the site of the fort where his ancestor served as a Revolutionary officer. He is so interested in the Mohawk valley and its history that he says he will make an extended visit to Fort Plain's village and neighborhood points of historic interest at a later date. Mr. McLellan is a graduate of the architectural section of the Ecole de Beaux Arts of Paris, and, for a number of years, was a well known architect of New York city. He returned to Champlain several years ago, where he occupies the Pliny Moore house. Mr. McLellan conducts the Moorsfield press which is printing selections from the great mass of valuable and important historical manuscript material, which he has inherited from Pliny Moore.

The Moore papers constitute the most important accession to the material of history of the Mohawk valley in a number of years. Matter relative to Fort Plain and the Revolution has been very scanty up to present time. The Moore papers will enable historians to compile a much more comprehensive history of this important Revolutionary fortress than was previously possible.

Hugh McLellan has promised to send the Fort Plain Standard copies of the documents in his possession relative to the Revolutionary Fort Plain. Selections from them should provide interesting future reading for Standard readers.

Charles Woodbury [sic] McLellan, father of Hugh McLellan, was a resident of Springfield, Ill., prior to the Civil war, and was a friend of Abraham Lincoln. Hugh McLellan has printed several hitherto unpublished Lincoln papers.
---
Pliny Moore was born in 1759 and would have been 18 years old in 1776 when the Declaration of Independence was signed. At this time, he was living in Spencertown, New York. With war brewing, Pliny contemplated enlisting in the military as early as 1775. A friend, John Fellows, Jr., wrote to him on December 26, 1775, from the Camp at Dorchester: "If you dont list as I have been informed you had a great mind to if you will stay till spring I will list with you if it is very cold -- "
Pliny enlisted in the army in April of 1776 when he was still 17. A letter dated April 24, 1776, from a friend reads: "I hear you have Listed into the Continental Service to go to Quebec. I believe that I shant go with you this summer." Pliny received other letters, probably from family or friends in Spencertown, on July 7 and 28, 1776, when he was in Captain O'Hara's Company[1] (in Colonel Cornelius D. Wynkoop's regiment) at Tye [Ticonderoga], Crown Point and Fort George, New York. During this period, he contracted small pox. Pliny was also a Private in the First Regiment, New York Line, under Colonel Goose Van Schaick.
In 1778, Pliny's enlistment was complete and he went home. In 1779, he became a Deputy of Colonel Peter Van Ness, Assistant Commissary of Purchases.[2] A November 10, 1780, Certificate by Major John McKinstry showed that Pliny proceeded to Albany to join his company. Also around this time, it was written that he reported for military duty but was not needed.[3]
In June of 1781, Pliny enlisted in Colonel Marinus Willett's Regiment of Regular Levies, which was part of Captain Job Wright's Company. He was a Lieutenant and Adjutant in this regiment. His commission was dated July 24, 1782.[4] He may have served mostly in the Mohawk Valley. A letter from his friend Elisha Pratt, 3d, dated October 13, 1781, stated: "When I read the Characters of Gen'l Starks and his Aid-Decamp and at the same time am informed that you are a Member of his Honorable Family..." Also among Pliny's papers is a Remonstrance to Brig. General. Stark, Oct. 5, 1781. Another letter, dated September 20, 1781, was addressed to Lieutenant More in Col. McKinster's Regiment in Saratoga.
It was also written that Pliny was a Lieutenant and Adjutant in Major Elias Van Bunschoten, Jr.'s Independent Corps, whose commission was also dated July 24, 1782.
In February of 1783, Pliny was still in Colonel Marinus Willett's Regiment where he was in a forced march to Oswego. By the summer of 1783, Pliny was stationed at Fort Rensselaer (later called Fort Plain) when George Washington visited. Hugh McLellan wrote a long article about Pliny's experiences during the July 4 celebrations. His article was based on a letter written by Pliny to the publishers of a newspaper about this experience.
Finally, Pliny may have been a Captain (#7) in Lieutenant-colonel Philip Van Alstyne's regiment of Columbia County Militia. This commission was dated September 13, 1786, as Hugh wrote later.
Hugh wrote a summary of Pliny Moore's military record in his Moorsfield Press publication about Job Wright's Company:
PLINY MOORE'S MILITARY RECORD.
Private, Captain Henry O'Hara's company (in Colonel Cornelius D. Wynkoop's regiment). See note, p. 14; also Fernow, N. Y. in Rev. I, p. 101.
Private in First Regiment, New York Line, Colonel Goose Van Schaick. (Roberts, N. Y. in Rev., I, p. 24).
Deputy of Colonel Peter Van Ness, Assistant Commissary of Purchases, in 1779. (Clinton Papers, v, p. 223).
Lieutenant and Adjutant in Colonel Marinus Willett's regiment of Regular Levies, Capt. Job Wright's company. (Commission dated 24 July 1782; and Roberts, N. Y. in Rev., I, p. 87).
Lieutenant and Adjutant in Major Elias Van Bunschoten, Jr's Independent Corps. (Commission dated 24 July 1782, and manuscript "Return of the New York State Battallion Commanded by Major Elias Van Bunschoten who are Retiring from Service", dated Schenectady, 9 January 1784).
Captain in Lieutenant-colonel Philip Van Alstyne's regiment of Columbia County Militia. (Commission and Council of Appt., I, p. 98). [Hugh wrote "dated Sept. 13, 1786"].
An extensive summary was compiled by Hugh McLellan of Pliny Moore's published military service. Note that some of the information is not correct.
Military Records of Pliny Moore:
(From the SAR. Mass. Hist. Memoranda, Best. 1897)
Pliny Moore, Sheffield........1759-1822
Drummer in Canadian expedition, and at Quebec, in 1775. [Not correct - DSP]
Lieutenant, Capt. (Job) Wright's Co., Gen. Williett's [Willett's] Reg, and Adjutant;
Battles at Yorktown, Va., and elsewhere [Error: Hugh wrote: 'not so']
1778
(From the Mass. Soldiers & Sailors in the War of Rev. Bost. Vol. X, 931)
Moore, Pliny.
Private, Capt. Joshua Whitney's Co., Col. Josiah Whitney's Regt.; service from July 31, 1778, to Sept. 14, 1778, 1 mo, 18 days, at Rhode Island, Roll dated Worcester. [Very Questionable - DSP]
Unknown Date
(N. Y. in the Revolution, Vol 1, p. 24)
Pliny Moore,
Private in 1st Regiment of the Line, Col. Goose VanSchaick.
1782
(Same, p. 87)
Also in NY in Rev. by Fernow, Albany 1887, p 260, 539)
Lieut. & Adj. in Col. M. Willett's Reg. of Levies raised 1782.
Lieut: July 24, 1782.
Adj: Nov. 7, 1782.
Commissions of Pliny Moore:
1782
July 24, 1782. Lieut. Independ. Corps, Elias Van Bunschotten Jr.
July 24, 1782. Lieut. Regular Levies, M. Willett Lieut. Maj. Col. Command.
1786
Sept. 13, 1786. Capt. #7 of a Co. in the Reg. of Militia in the County of Columbia. Philip Van Alstyne, Lieut. Col. Comm.
Letters concerning Pliny Moore's military enlistment:
1775
Dec. 26. John Fellows Jr. Camp at Dorchester, to Pliny Moore Spencertown. "If you dont list as I have been informed you had a great mind to if you will stay till spring I will list with you if it is very cold -- "
1776
Letter Apl. 24, 1776. "I hear you have listed into the Continental Service to go to Quebec. I believe that I shant go with you this summer."
I shall expect a letter from you before you march as I hear it out till next Monday.
Letters written to him from Spencertown, July 7, & 28, 1776 are addressed to Mr. Pliny Moor, in Capt. O. Harrows or Oharrows Company, at Tye [Ticonderoga], Crown Point & at fort George.
1780
Nov. 10, 1780 Certificate of John McKinstry Maj, that PM had proceeded to Albany to join his Company.
1781
Letter from Elisha Pratt, 3d, dated Oct. 13, 1781 says: "When I read the Characters of Gen'l Starks and his Aid-Decamp and at the same time am informed that you are a Member of his Honorable Family..." and among his papers is a Remonstrance to Brig. Genl. Stark, Oct. 5, 1781.
Letter Sept. 20, 1781 addressed to Lieut. More in Col. McKinster's Reg't — Saratoga.
---